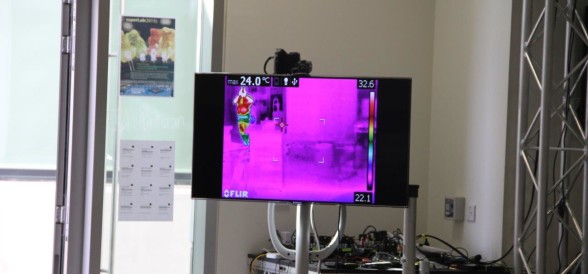 I am unlikely to be found in a candy store… but, yesterday's trip to Abu Dhabi generated a feeling of elation and of wonder, as if I was indeed a kid in a candy shop.
We visited the SuperLab at the Abu Dhabi Campus of NYU on Saadiyat Island, on the kind invitation of a dear friend, Dr. Ramesh Jagannathan (Associate Dean of Engineering) and wished I would have taken him up on his long standing invitation earlier.
SuperLab is an advanced Maker Lab at NYU, built with inspiration from various other such initiatives, like MIT Media Lab, and has an exceptional team running it. The lab is open to NYU students and to formal collaborators of NYU and is open 24×7, allowing young makers and ideators to use the facilities at the lab anytime. The lab is equipped with some really awesome equipment, awesome enough to send any decent techie or maker into a dizzy spell. From soft fabric working equipment to 3D printers, from laser cutters to drone gear and from flexible walls to oscilloscopes… the lab is ready to take ideas and tinker with them.
NYU students seem to be making use of this great resource and we found some great experiments – completed and works-in-progress. The thermal camera on the door made an awesome, unique selfie moment (pic.) and the innovative assembly of a bubble tea vending machine were a joy to behold – great stuff by any standard!!
Well, with my hat as the Founder of The Assembly on, my first thought was to see how we could make this accessible to those who need – increasing cross pollination of ideas and people – to build a long lasting tradition of design thinking, smart design, creative/ground-up innovation and viable productization of all this.. And, I found that the great team at NYU, led by the Dean of Engineering, Dr. Sunil Kumar – were so welcoming and needed no convincing at all! I am sure we will be able to do a lot of things together to get innovation into everyone's daily life.
I am looking forward to working with the great team, probably get my hands dirty to build some stuff that keeps coming up in my head and needs to come out 🙂 I am going to be driving to Abu Dhabi more often, for sure!!
PS – See this profile on the SuperLab by The National, though a bit dated…